1
THE MARTINLOGAN MOTION 30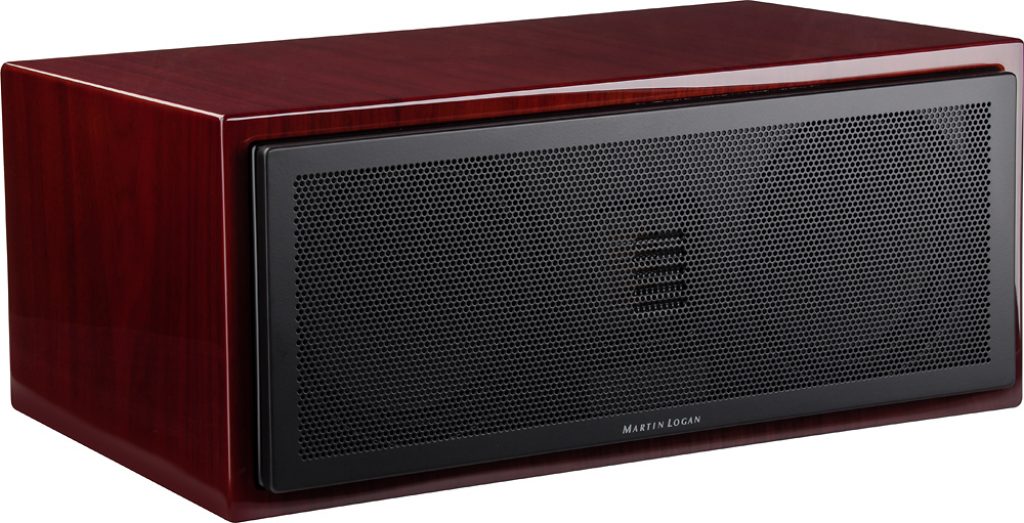 This MartinLogan creation, which comes with a well-lined Cherrywood finish, is a work of art which redefines quality sound effects and crystal-clear movie and television dialogues which gives one that dream home theater satisfaction and actualization.
The speakers combine high-excursion, black aluminum cone woofers and low-turbulence, rear-firing, bass ports, providing an extended, powerful bass performance This center channel speaker's two 5.5″ aluminum cone woofers and 1″ X 1.4' Folded Motion tweeter provides a unique music detail coupled with a low distortion with a bass reflex enclosure and a wedge-like cabinet which facilitates placements and directions of high frequencies for the center channel speaker.
The Motion 30 has a frequency response of 65 Hz – 25 kHz, together with an impedance of 4 ohms and a sensitivity level of 91 dB. Weighing about 18 pounds with dimensions 419mm X 175mm X 266mm, the speaker possessed a wide-ranged 20-200W power handling capacity coupled with a 5-way post-speaker terminal and a perforated steel grille magnetically attached to its cabinet.
The construction of its woofers and tweeter pimps it with a more cinematic influence and deeper bass reflex and balance. The Motion tweeter has an incredibly lightweight diaphragm and a surface area eight times that of conventional one-inch units which makes for an inch-perfect exceptional clarity to movie dialogues and audio outlets in loud-banging music tracks in almost any angle in any room in the house. The folded motion background assists the tweeter by pushing the air out while adding lightning fast response time for a high-quality sound which is generally non-existent on less expensive competitors. The speaker gives an accurate match-up and blend with the Motion Floor-standing speakers. This elitist model creates clear, highly dynamic, and precise sound and hhas a premium, five-way binding posts assure a solid connection. A large part of the sound goes directly through the center channel. The structure of the speakers also allow listeners to build a home theater system in a simple, piece-by-piece technique. Motion 30 are available in three glossy finishes; the Piano Black, the White and the Black Cherrywood which appears almost black in low light, giving them a unique and understated elegance that blends into any environment.

With this creation, Sony introduces a new center speaker armored with a crystal clear voice depth and all around great dynamic range which makes it a delight for music and movie lovers all around. The Sony SSCS8 provides an advanced class of body, clarity and weight dimensions.
It is a two-way bass reflex center speaker system with a 3-driver speaker system with dimensions 508mm X 279mm X 228mm, the SSCS8 has two 4" cone woofers and a 1" tweeter assembly designed to give a high-frequency audio response of about 50 kHz which creates a high-resolution listening influence. The cabinet of the SS-CS8 is made from wood, which is designed to provide a natural resonance, and its bass reflex construction is designed to deliver optimized low frequency sound.
Protected and enclosed in a well-fortified cabinet, the SSCS8 operates at 145W maximum power, weighs 10 pounds and has a compatibility for connecting with extra speakers for sound power optimization It can provide maximum sound quality and a powerful bass response even when placed anywhere in a room and is directly mounted on its cabinet which greatly mitigates the after-effects of Vibrations. Audio tracks unfold throughout your listening environment, through its precise instrument reproduction, positioning, and even depth proportion to an expansive soundstage, it facilitates and allows audio tracks unfold throughout your listening environment.
It is perfectly suited for home theater movies and provides an impeccable blend with other matched speakers when combined. In other words, the SSCS8 can be easily paired with other speakers with similar power level outage. This feature also enables one to easily match it with other Surround speakers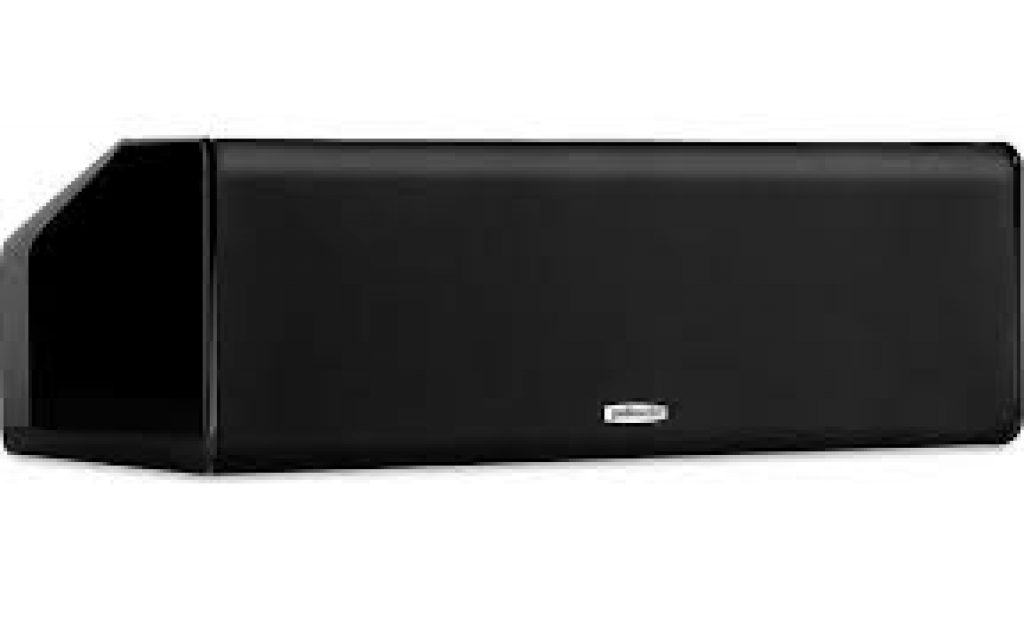 The Polk CS10 is one which can be easily regarded as a natural top-seller due to its high compatibility with home theater systems. This model was designed CS 10 with a priority and preference contingent on system efficiency and durability and its compatible with a large number of electronics. The Polk Audio CS10 can be easily seen as a suitable choice for small upgrades or replacements made to the basic home theater system.
The Center Channel speaker has an operating capacity of 20 – 120W and a frequency response of 53 Hz to 25 kHz translating to a 91 dB sensitivity level. Measuring at about 254mm X 508mm X 152mm and along with its reasonably strong interior, it has two 5.25″ cone woofers made from laminate organic fiber and a 1" balance dome tweeter made from silk polymer. Interestingly, the CS10 has a classy-esque wooden cabinet which gives it a sleek look and comes in neat and spotless finishes, whether black or white along with its reasonably strong interior.
It serves very essential purposes for rooms of small and medium sizes and can be easily placed beneath a television with a view of better effects. . The crossover system added to the speaker's framework arms it with a bass-heavy sound which instantly seduces the listener/owner and, with its five-way binding post connectors, one may reconstruct the system to attain one's ideal and perfect sound. This center channel speaker can create a powerful surround sound experience that sounds substantially realistic.
This speaker would clearly be a bargain purchase, considering the high quality of sound production and audio performance in the place of its much affordable price range.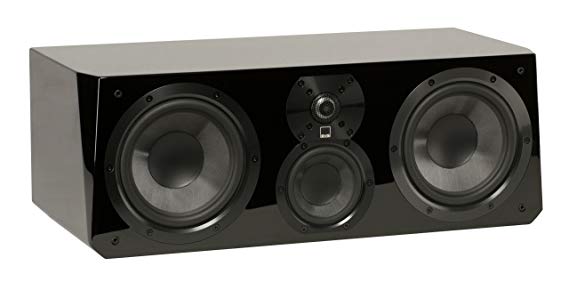 Having dimensions of 8.5" by 22" by 10.9" and a weight of 31 lbs. , the SVS Ultra is a stand-out speaker that delivers a wide variety of movie dialogues and music content with an immense crystal-clear quality and a significant depth.
The speaker comes with a three-way crossover accompanied with 2 6.5" glass fiber woofers and a 1" aluminum dome tweeter. With its 4" mid-range driver, it emits a classy blend of sound accuracy and sound power which gives it its "stand-out" tag, even among larger center channel speakers.
Producing a precision-aimed frequency response of 45 Hz-32 kHz at every listening range, the SVS Ultra is designed to give a unique sound distribution effect and a high degree of sound realism and dynamism.
The cone drivers of the SVS Ultra Loudspeaker are constructed and made out of composite glass fibers that provide an exceptional and standout rigidity and sensitivity, allowing you to turn up the volume significantly without altering the signal.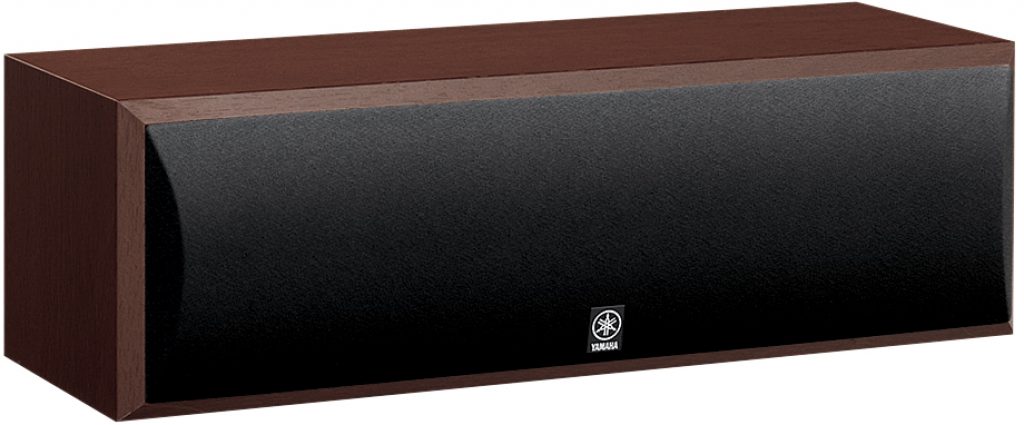 The Yamaha NS center channel speaker undoubtedly creates an advanced reflection of the HD sound maximization mechanisms. With dimensions 127mm X 330mm X 101mm, it has a unique design which makes the slim-built structure a perfect fit for basically all flat-screen televisions and can be adequately described as a center channel speaker which provides you with total access to enjoy movies and TV shows. Not only does it have an aura of elegance with its slim outlook, it also is specifically attentive to reproducing the fuller, dynamic sound of high-definition sources with its simplified and non-complex system of speaker technology.
With an impedance level of 6 ohms and a high frequency response between 65 Hz and 45 kHz, its two 3.1" cone-shaped woofers are coated with lightweight aluminum for fast audio response with a 0.9" balanced tweeter dome. Slim and sleek as it is, it can be placed anywhere and on any room holding equipment. Its versatility also transcends to the emitting of top-quality sounds and having a simplified technological structure.
Enamored with the ability to handle up to 120W of power even though the model does not have an built-in magnetic shielding system, it has a 2-way bass reflex speaker type to reproduce the full-effect sound of HD sources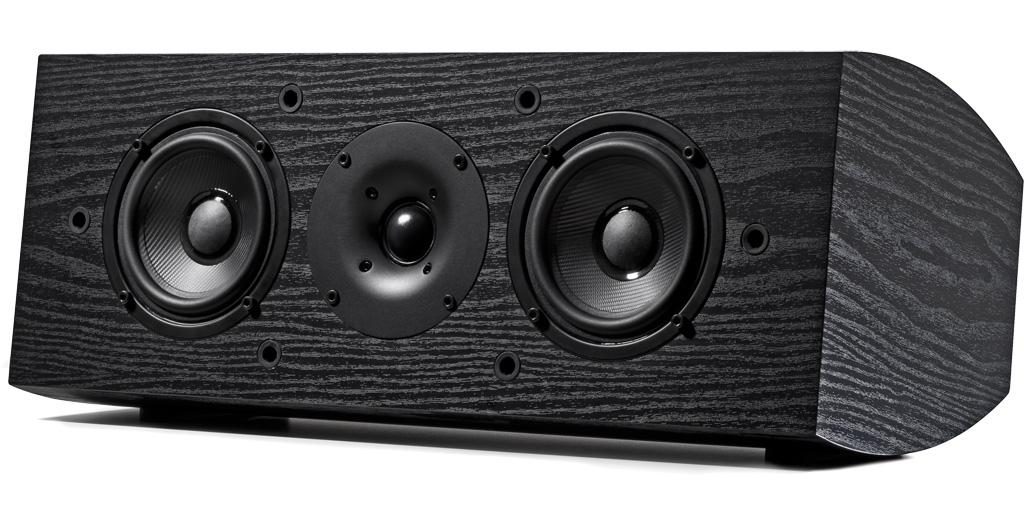 The SP-C22 is a thing of beauty to behold and to utilize for sound and audio perfections. It has a 6-Element Crossover which compartmentalizes the audio signals into low, mid-range and high frequencies, hereby assuring a high quality and accurate sound reproduction from movies and Televisions.
With a measurement of 228m X 457mm X 178mm, Andrew Jones designed this speaker system with a 1″ dome-shaped tweeter, two 4" structured surface woofers and a 90W power handling range with a high frequency response regardless of the volume level. The Andrew Jones' creation has a curved cabinet shape which enables its output to rise gently through the room and dramatically reduces the possibility of internal standing waves. Ideally designed to be placed on the floor surface, it may be regarded as being the perfect solution for simple setups or elaborate expansions.
Weighing about 13 pounds, the SP-CC2 is structured with an accurate blend of sounds and audio responses with inner dialogues having a crystal-clear output. It is quite simple to set-up and install without strenuous and extra expansion fittings. The pocket-friendly speaker has a thick and raw sound and sits well with other frequencies.